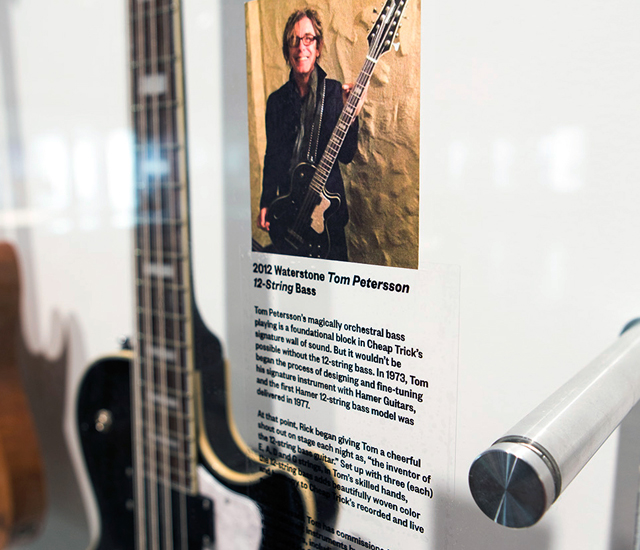 Cheap Trick's legendary bass player, and inventor of the 12-string bass guitar, Tom Petersson, has lent his 2012 Waterstone Black 12-String bass guitar to Rick's Picks!
Tom's magically orchestral bass playing is a foundational block in Cheap Trick's signature wall of sound. But it wouldn't be possible without the 12-string bass. In 1973, Tom began the process of designing and fine-tuning his signature instrument with Hamer Guitars, and the first Hamer 12-string bass model was delivered in 1977.
At that point, Rick began giving Tom a cheerful shout out on stage each night as, "the inventor of the 12-string bass guitar." Set up with three (each) E, A, D and G strings, in Tom's skilled hands, the 12-string bass adds beautifully woven color and harmony to Cheap Trick's recorded and live music.
Over the years, Tom has commissioned many different instruments by a variety of manufacturers, including Gibson, Chandler, E.G.C. and Kids Guitars of Tokyo. Founded in 2002, Waterstone is a relatively new player in the guitar/bass market. Located in Nashville, Tennessee, the company is owned by a vintage guitar collector (and neurosurgeon) named Dr. Robert Singer.
Petersson's bass joins the 73 guitars, 100 show posters, 55 platinum and gold records, 170 Rick-designed, unique guitar picks and 60 F.O.R. (Friends of Rick) picks, 115 pieces of fan art sent from fans around the world and many hundreds of other personal items and memorabilia.