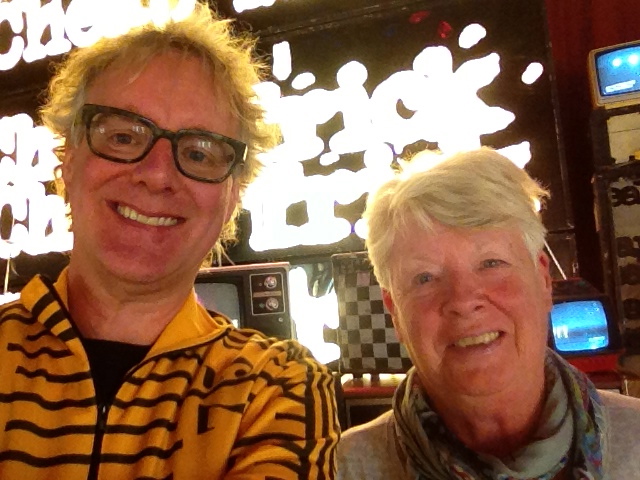 Peter Exley isn't just the founder and creative genius behind Chicago's Architecture is Fun, an internationally known design firm specializing in children's museums and other flights of fancy. He is also a Britain-born and bred, dyed-in-the-wool Cheap Trick fan of the highest order.
Recently, he returned to Rick's Picks (his second foray) and brought his Mum, Patricia, who was visiting him from Britain, along for the ride.
"Rick's Picks is amazing," said Peter. "I know I'll be back for a third visit – and more."
"Yes, it really is incredible," said Mum. "Seeing Rick's Picks reminds me of when Peter was a little boy – and would bring home all his new rock albums. I remember that Cheap Trick In Color album quite well."
Asked what she remembers best about In Color, Patricia offered, "its VOLUME! The excessive volume at which Peter always played it. It was deafening!"
"I remember buying that album like it was yesterday," recalled Peter. "I loved the music – the songs, the lyrics – and the photos on the cover: all of it. And, of course, I identified a little more with the two 'nerds:' Rick and Bun E, on the one side, as opposed to the two 'rock gods,' Tom and Robin, on the other."
Now, after having met Rick once or twice over the years, and having visited Rick's Picks, Patricia has new words to describe Rick. "Fascinating. Talented. Genuine," she enthused.
Peter agrees with his Mum.
"At Rick's Picks, you get this amazing sense of the depth of Rick's talent, but you also get the sense of a regular guy – not regular to look at, and not regular to experience as a musician – but a regular guy who truly likes and respects other people, and leads an otherwise regular life."
To that end, Peter enjoyed digging deep, literally, into Rick's past.
"The drawers are a great feature. Truly brilliant – and what they contain seems endless. Rick is a great guitarist, musician, member of a community, family man, collector. That's what I learned in those drawers. This exhibit, Rick's Picks, it's a brave thing to have done. It's brave on the parts of its designers and on Rick's part, especially. To show himself to the world like that, it's wonderful. I've never seen anything quite like it."
The high regard in which Rick is held by fellow musicians is also on display, he said.
"Amazing musicians like Dave Grohl, my old friend Jon Langford, and many others – they love Rick and his songs, don't they? Watching the movies, they're quite giddy in the presence of just Rick's Checkerboard guitar. Makes one wonder what they'd have done if it were Rick in the room! I think that's great. I loved seeing them pour their hearts out like that."
"Also, I loved experiencing the family tree of music through the movies," he continued. "Seeing the connections that Rick has made with others through his guitars, his musicianship, his personality, the songs he's written… Rick and Cheap Trick certainly have their own legacy, but at the same time, they are carrying on a proud tradition."
"You know," Exley said, " a lot of my friends have sort of grown out of their obsessions with the music of their youth. Maybe one of the reasons I'm still so happily passionate about music is because I was lucky enough to have picked Cheap Trick. They have this amazingly deep back catalogue, but they are still going strong."
For her part, Patricia had one somewhat remorseful thought.
"Maybe I should have been more tolerant of Peter's choices in music when he was a boy," she said with a smile. "Experiencing Rick's Picks with my son gives me new appreciation for Rick's music – and makes me wish I hadn't said, 'please turn it down' quite so often."
It doesn't take much of a flight of fancy to predict what Rick would have to say.
"Mummy's alright! Peter's alright! Rick's alright! We're ALL ALRIGHT!"