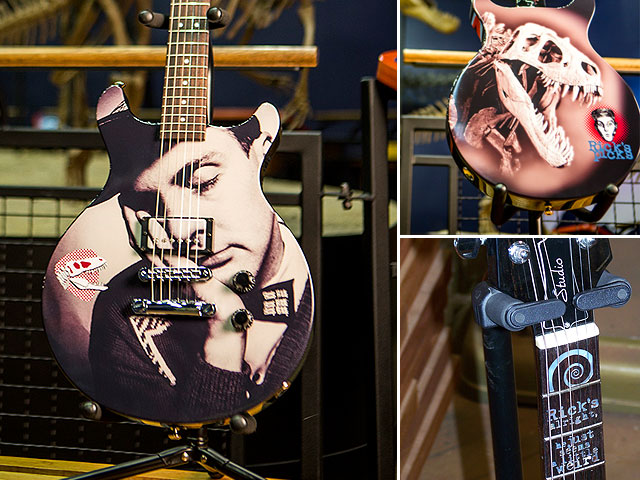 How about a deafening roar, a charming grin and a lot of fans, for starters? Jane is the finest, most famous example of a juvenile T. rex in the world and Burpee Museum's prize longterm resident. Rick Nielsen is…well, you know, equally famous, equally unique and equally cool – but not nearly as old:-).
And now, Rick & Jane are sharing a guitar together. Best of all, YOU can win it in a $1/chance raffle!
Introducing the Rick & Jane custom Hamer Studio, featuring a sleeping Dream Police-era Rick on the front, Jane's menacing grin on the back, intricate pearl inlays saying "Rick's alright, he just seems a little weird" on the fingerboard, Jane's spine on the back of the neck, and Rick's signature on the back of the headstock. Rick & Jane is a real show- stopper, and as this is written, Rick is playing it on the road with Cheap Trick on the Aerosmith tour. Here's Rick and Rick & Jane in action
Hand crafted by Hamer luthiers Mikhail Shishkov and David Brown at the Hamer Custom shop with an assist from Fender's Kim Keller, and (formerly of Hamer) Frank Untermyer, and designed by exhibit designers GrahamSpencer with an assist from Rick himself, this guitar is truly a one-of-a-kind museum piece. No pun intended!
You may purchase chances at the Burpee Museum gift shop daily, 10:00am – 5:00pm, Fridays 10:00am – 9:00pm or by calling 815-965-3433 from 10am – 5pm CST daily. Each chance is just $1, or 15 for $10. Minimum by-phone purchase is $10. Drawing will be held on the last day of the exhibit. Get your chances soon – and remember; the Rick & Jane math is simple; the more tickets your buy, the better your chances. Proceeds benefit Burpee Museum, of course.