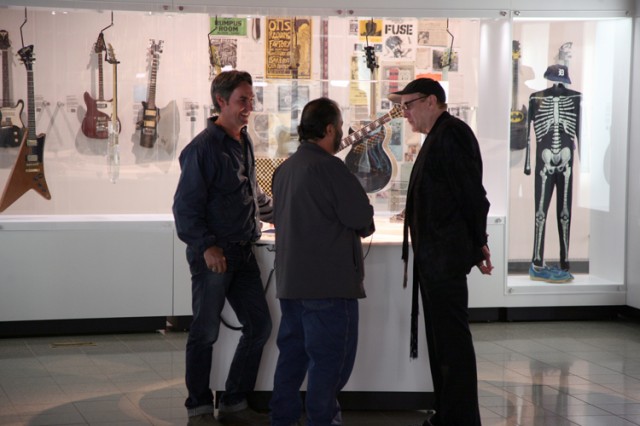 Rick's Picks, and of course, Cheap Trick's guitarist/songwriter himself will be featured in an upcoming episode of HISTORY'S American Pickers premiering March 11, 2013.
Peripatetic picker Frank Fritz convinced picking partner Mike Wolfe to visit Burpee Museum in Rockford, Illinois. He had heard about Rick's Picks: A Lifelong Affair With Guitars & Music, and as a lifelong Cheap Trick fan, wanted to see it. What Frank didn't know was just how deep the exhibit is – and that, in addition to the astounding collection of famous and vintage guitars, it features thousands of priceless examples of rock & roll memorabilia from Nielsen's collection of a millennium.
American Pickers, the critically-acclaimed hit television series on HISTORY, follows Mike and Frank as they scour America for hidden gems in basements, garages and barns, meeting quirky characters and sharing their amazing stories with upwards of 5 million viewers each week. They've rarely run across a character as quirky – and never one as talented – as Rick Nielsen.
Frank, Mike and Rick have become good friends since the day the Pickers stopped by Rick's Picks, and Nielsen happened to be there. To see the results of the encounter, tune in to HISTORY on March 11.
"What happened was pretty special," said Mike Wolfe. "We're birds of a feather, Frank and Rick and me. Collecting, picking brothers in arms. We were all three bitten by the same crazy bug early on in life, and it's amazing how quickly it brought us together when we went to see Rick's exhibit in Rockford. That's when the picks really started flying."
"Seeing Rick's exhibit was truly mind-boggling," said Frank Fritz. "For me, as a nearly lifelong Cheap Trick fan, I was in heaven. And, then, to dig even deeper with Rick himself – well, we can't wait for the nation to see what we picked out of Rick's storage lockers. Mike and I drove away from Rockford very, very happy."
"Those guys are great," said Rick. "Frank and Mike can rummage through my collection any day."
Jay Graham of GrahamSpencer, the firm responsible for designing and curating Rick's Picks, said, "I've been at three Cheap Trick shows that Mike Wolfe has shown up at in the months after the episode was filmed. We also had the pleasure of interviewing Mike on film for Rick's Picks biopic movie content. He's a fascinating, very competent guy. And, his respect for Rick as an iconic artist – as well as a veteran collector – comes through loud and clear in his every comment. I can't wait to see what Mike and Frank created."
The episode airs Monday, March 11 on HISTORY. Visit here for local listings.